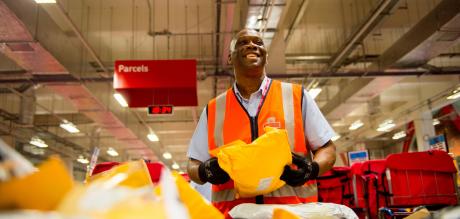 Royal Mail has always upheld a reputation for taking the security of our post very seriously. And now they're stepping up to today's technical standards with all postmen being equipped with hand-held computers that include cameras to prove that deliveries have been safely made to UK properties.
Should a parcel need to be left in a "safe place" the postman will photograph its location in case of its whereabouts coming into question at a later date. The customer can request that an email is sent with this location, should it be required. It is suggested, that this gives postmen an equivalent power to traffic wardens who routinely take note of parking misdemeanours. It also protects the postman from unrequited allegations of "missing" deliveries. It is a system already in use by some courier companies.
Royal Mail is required to publish success of service statistics on a quarterly basis, most recent results as follows:
Royal Mail beat its 93.0 per cent First Class mail target for the first quarter of the financial year 2014-15 – 93.3 per cent of this mail was delivered next working day
Royal Mail also exceeded its Second Class mail target of 98.5 per cent, delivering 99.0 per cent of this mail within three working days.
Royal Mail has one of the highest service specifications of any major European country
Sue Whalley, Chief Operations Officer commented: "Our people have continued to deliver across the UK to a very high standard, against one of the highest service specifications of any major European country. We remain the only delivery company to publish our quality of service and we are proud to do so."
Dawson Surveyors is pleased to see this ongoing postal support to UK housing and private businesses where communications can still be rapidly transported between national and international locations.